Review: The AGFA eClipse Explorer
I've always wanted a waterproof camera, but I never wanted to spend an exorbitant amount for it. I had initially set my sights on saving up for the likes of a Canon D10 (and its successors) or a GoPro, but cameras like these were — and still are — beyond my budget; especially because I've been prioritizing other things.

During our recent company beach trip, though, my art director partner brought out a cute, no brainer-looking camera just before we hit the water. To my surprise, it was waterproof, dustproof, and shockproof.

Meet the AGFA eClipse Explorer.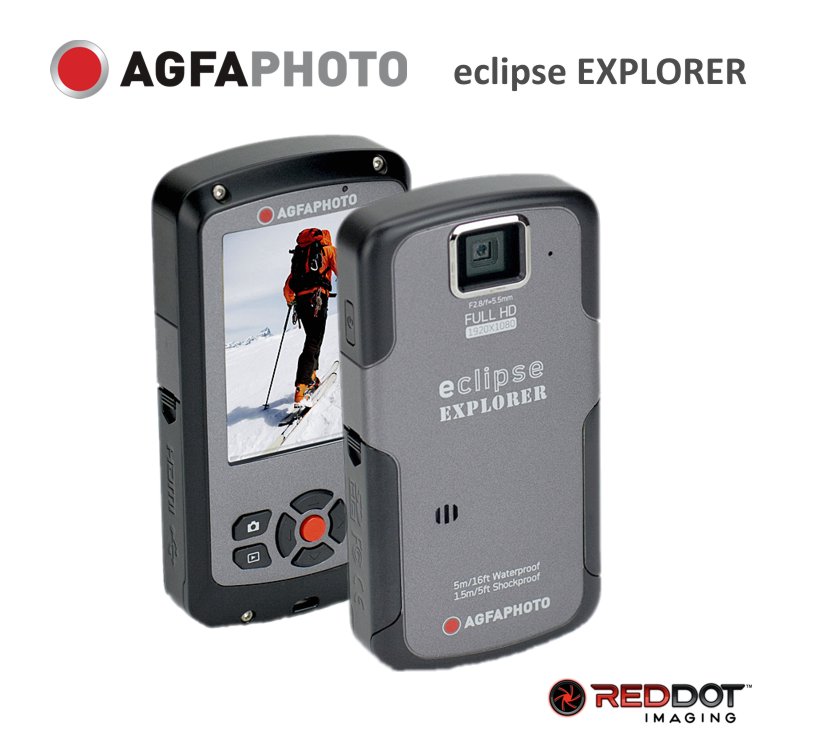 I was equally surprised to find out that AGFA was still around; the last time I saw anything AGFA-made was back when film cameras were still the norm.
According to my officemate, she got her camera c/o a discount coupon offer two years back, and since it was really cheap, she went for it.
Over that beach weekend, I got to see for myself how it performed.
Not bad when it comes to action shots.


Underwater shots are pretty straightforward.
Daytime shots are okay as well.
Note, though, that these photos were color tweaked. The originals were less saturated, but were good enough. Since I like my photos to burst in terms of color, I adjusted the brightness and saturation.
But here's how a daytime shot looks like when unprocessed.
I found that it met what I needed, which was a very basic requirement: that it could take decent underwater photos (which I would totally abuse, given how much time I spend in the water).
Control-wise, I found it to be very basic and easy to navigate: the camera icon for clicking and reverting to camera mode (from play mode), a play button to review photos and videos, and the red record button for videos. The directional buttons act as different options, such as changing the white balance (WB), zoom, and to see the image histogram.
So the following week, I decided to order my own camera and one day later, my white version of the camera arrived, just in time for the Holy Week.
I used the time away from work to acquaint myself (and my family) with it, and it's served us well.
My mom, mid-breaststroke.
Yours truly.
My sister, Cooky.
CJ doing laps.
Since the camera's supposedly shockproof, I took it with me (in my bike bag) during one of my rides. Not bad, considering I was working on my speed that day. It must have been a bumpy ride for the camera while inside my bag, but it held up.
To sum up all my thoughts on this camera:
The Good:
Takes good photos when there's a lot of natural lighting.
Photo quality is sharp enough (its resolution is 5 megapixels).
Video quality is decent (HD 1080p).
It has different WB options (auto, daylight, cloudy, underwater, etc.) so you can change the overall color tone of the photo depending on the conditions around you.
The camera looks and feels sturdy enough. I haven't tried dropping it yet (neither has it taken a bad fall), but I would imagine that it would survive a fall.
The Bad:
No flash function, so expect your photos to be dark if you're in a place with insufficient lighting.
No timer, so you can't take beach or swimming pool jump shots and the like, unfortunately.
Zoom function isn't good; remember your VGA-quality photos from your old school cellphone? Expect a zoomed-in shot with this camera to look like a VGA-esque photo.
Overall, the colors could be better, so that one doesn't have to do much tweaking.

I'd say that while this camera definitely isn't the best one out there, I really can't complain, given how much (or how little) I spent for it. It pretty much does the job that it's meant to do, which is to take photos underwater or in the water.
If I had more money to spend (or if my hobbies required something better, i.e. diving), then I'd definitely invest in something else, of course. I'd actually want to see photos (and videos) in a 170º wide angle a la GoPro. Just so that more elements could fit into one photo.
But, again, I'm pretty happy with this one, and I think you would be, too, if you were in a similar situation.
If you're looking for something pretty cheap to use in the pool or at the beach, then you could consider this. You can buy your unit from
Kameraworld
or even through online sellers. I got mine from Sulit (now
olx.ph
).

Happy clicking!
(Disclaimer: AGFA didn't pay or ask me to write this blog entry, neither was I sent any samples. I just felt like writing about this, in case other underwater camera seekers like me were looking for options.)