Because I Knew You, I Have Been Changed for Good
How does one write about a spellbinding, magical, exhilarating, unforgettable experience — without echoing what others have already said?

Honestly, I have no idea.

All I know is that I can't not write about the wonder that is Wicked.

But first, flashback to about two years ago: there was a Facebook page entitled "Petition to Bring Wicked in Manila". I remember being one of the first "likers" of that page, only because I had heard so much about the musical from my friends who had seen it in New York and in Singapore. Little did I know that my prayer would be answered more than a year later, when they had finally announced Wicked's Manila run.

Just like what I did with Phantom of the Opera, the first day they were selling, I immediately reserved tickets for everyone in the family. Not surprisingly, a lot of seats had already been accounted for when I booked, especially on weekends. My dad suggested booking on a weekday, so I chose February 5, Wednesday, which is my sister's birthday.

Fast forward to yesterday, February 5: I couldn't wait to take a ride on my mythical broom and see the wonderful world of Oz. I was mentally preparing myself not to sing "Defying Gravity" out loud, lest I annoy my seatmates.

My family and I met up at CCP a little before 6:30. The show was to start at 7:30, and we made sure that we were there early (side story: during Phantom two years ago, some of my family members had to go to the bathroom right before the show started, and when the lights went off, they weren't allowed to take their seats; they had to stand at the perimeter and wait for the intermission before they could sit down).

The first thing we noticed was the souvenir shop. I wanted to buy everything in sight, basically.


© Tina Araneta
We ended up getting a souvenir program (PhP 500) and a magnet (PhP 300), which now "lives" on our refrigerator.
When we got to our seats (Balcony 1), I couldn't wait for lights off. Here I am with the birthday girl, my sister. We kind of look alike here, for once.
© Tina Araneta
The set already looked amazing, and we hadn't even started the show.
© Tina Araneta
The lights dimmed shortly after, and the audience was immediately whisked away to Oz.
In a nutshell, I loved
everything
about
Wicked.
I can't even think of a single negative thing to point out — except for the fact that the CD of the soundtrack was priced too high (at PhP 1,200).
Kidding aside, I can only sing praises for the musical. And here are some of the highlights:
Production Design. The moving sets, the dragon, the huge "head" of the Wizard of Oz, and countless other elements... they all left me spellbound. It was amazing to see how CCP could accommodate all the set changes and props.
Lighting. Subtle one minute and an Oz party the next (watch how everything turns green once Elphaba and Glinda hit the Emerald City), it was a visual spectacle.
Music. Aside from "Defying Gravity", which Glee popularized, there were so many memorable songs. A day after watching this musical, I've played the soundtrack at least twice on my iTunes.
Cast. I'm officially a fan of Jemma Rix (Elphaba, a.k.a. Elphie, according to Glinda) and Suzie Mathers (Glinda, who used to pronounce her name as "Guh-linda", 'til it evolved to simply "Glinda with a silent GUH"). Both of them conveyed humor, despair, frustration, and they had an amazing chemistry. The rest of the cast was impeccable as well. I wish I could have written down all of the hilarious one-liners that they delivered.
Plot/Premise. Most people are fairly familiar with the storyline: a prequel to The Wizard of Oz; specifically, how it came to be that there was a Wicked Witch and the Good Witch. But what I didn't realize was how Wicked managed to humanize both characters (Elphaba and Glinda) and give more depth to who they were: not outrightly bad nor good. It was easier to empathize with both characters as there were so many layers to who they were as people.
All in all, I had such an amazing time. How I wish I could go back and catch the show once more before its extended run ends on March 9th.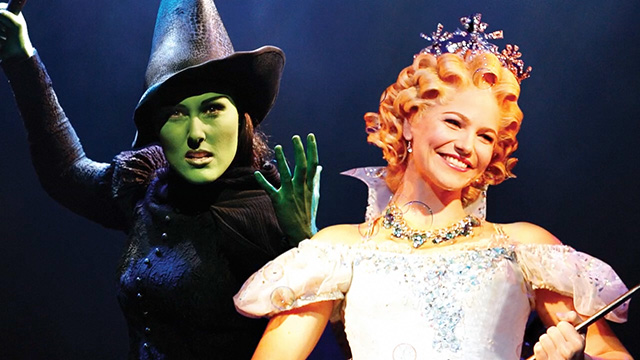 Jemma Rix (Elphaba) and Suzie Mathers (Glinda).
To sum up the
Wicked
experience, let me borrow the lyrics from "For Good", which was a haunting duet by Glinda and Elphaba:
That we will never meet again
So let me say before we part
Is made of what I learned from you
Like a handprint on my heart
A standing ovation for the wonderful, wicked people behind this masterpiece.
© Tina Araneta
My family and I thank you all for taking us on this wonderful journey, and for making my sister's 25th birthday one for the books!
© Tina Araneta
If you haven't bought tickets for the show, what are you waiting for?

I, for one, am looking forward to the next production that will hit our shores!