Breakfast For the Win
Today, we celebrate National Breakfast Day. Supposedly. I'm not sure if a certain fastfood chain (that gave away free McMuffins this morning) invented the holiday, or if National Breakfast Day really does exist.

Any which way, I'm glad that we're celebrating breakfast today, because it's my favorite meal of the day. It's the hardest meal for me to skip/fast/forgo, because I get cranky otherwise.

I'm such a morning person that my peak hours for working are between 9 and 11 a.m., and having breakfast fuels me. This is a pretty odd schedule for someone working in a creative industry, given that most people would prefer to come to work late and go home past Cinderella's curfew.

Also, I especially enjoy my breakfast after a good morning workout (like this morning's run). I feel like I can power through anything when my tummy's satisfied.

And so! To commemorate today's event, here are some of my favorite breakfast items:

1) Pancakes. Ever since I was a kid, I've been a fan of pancakes, and it's no secret that one of my favorite restaurants in this country is Pancake House. Now that we have IHOP in Manila, I'm intrigued to try out their different pancake combinations.


2) Eggs Benedict.
The runnier, the better. Plus, Hollandaise sauce is one of man's greatest contributions to humanity.
3) Longsilog.
The
Pinoy
classic composed of
longganisa
,
sinangag
(garlic fried rice) and
itlog
(egg). Always a winner.
4) Omelette. I'm sure you can tell by now that I'm a fan of different kinds of egg preparations.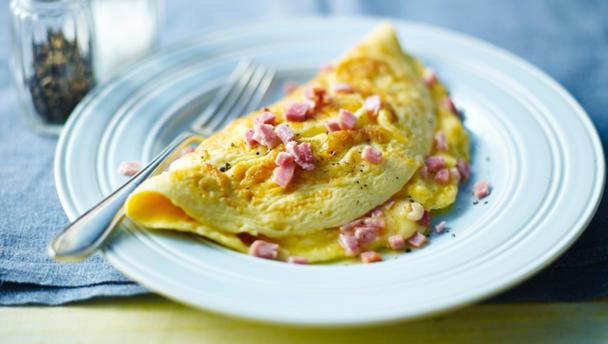 5) Pandesal with *insert spread here*. This takes me back to my childhood days when I would spread the likes of Cheez Whiz all over it. Good times.
6) Croque Madame. Again... eggs, cheese. Enough said. My stomach's dying right now.
7) A Cookie Butter sandwich.
I've hopped on the Speculoos bandwagon, and I don't regret anything.
8) A homemade tuna sandwich.
Again, this is one of those things that take me back to my grade school days.
9) Corned beef hash and sunny side up.
This is one of my favorite things to order, too, whenever I'm in Baguio Country Club. Pair this with hot chocolate and you're set for life!
10) Monte Cristo sandwich. Basically, a glorified ham and cheese sandwich, except the cheese used here is a billion times more amazing than your regular cheese.
Oh, and like any typical Pinoy, I'd like to reiterate that I basically like anything-silog, except tocino (sweet cured pork). I don't know why I was never a fan of tocino.
But this, I will always love.
Vienna sausage. Oh yes.
What are some of your favorite breakfast items? Happy National Breakfast Day to you, dear reader!
(Disclaimer: All the photos featured in this post aren't mine. They were all taken from random searches in Google Images. No copyright infringement intended.)