Olympic Mania
I should have blogged about this much earlier, but I didn't have the time for it.

But now that it's been almost a week since the London 2012 opening, I think it's time for me to express how much I'm loving the fact that it's the Olympic season.


For those of you may be new to this blog, you might not know that I used to swim competitively from my early grade school days to my high school days. I could've (and should've) tried out for the swimming team in college, but I didn't. I wanted to focus on my academics — as nerdy as that sounds — and I wanted a life after almost ten years of swimming everyday. Sometimes twice a day (5 am and 5 pm, especially on the days leading up to a competition.)
Looking back, I regret not joining the team; heck, not even trying out for it. Especially when I would see the women's swim team bag championship after championship every year. Or when I would see some of the swimmers walk around campus with their varsity jackets. That sense of belonging, of being part of something huge, is something I definitely missed throughout my four years in college.
Thus, I am what you could call a frustrated Olympian. I live vicariously through each and every swimmer I see on TV. I get that familiar rush of adrenalin whenever I see them unzip their jackets and get out of their track pants; when they shake off their nervousness by jumping up and down; when they step onto the diving platform; when they take their starting positions; when they finally dive into the water and do their first few dolphin kicks.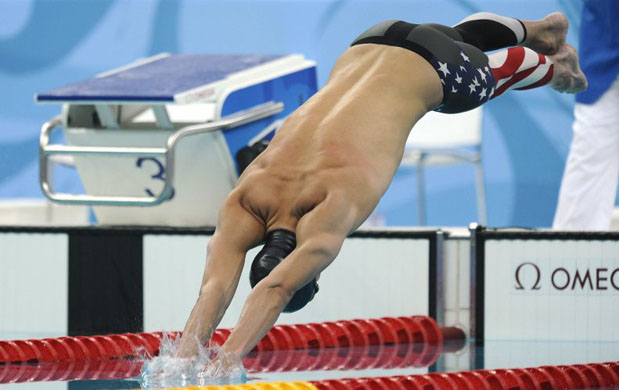 Michael Phelps in action.
Every four years, I watch the Olympics because my younger swimmer self dreamt of being an Olympian someday.
And every four years, I also watch the Olympics because these athletes inspire me to push myself to be better — whether it's to be more disciplined in my training, be a better copywriter and advertising creative, or be a nicer person in general.
Olympians aren't satisfied with mediocrity. They're out to beat their personal time (or world records, in the case of swimmers like
Michael Phelps
or
Ryan Lochte
), lift something heavier, incorporate more technical moves (gymnastics is my second favorite sport to watch), outplay or outwit their opponents, or be more accurate/precise.
Before the opening of this year's Olympics, I had prayed: "Lord, please let me catch some swimming events." That's because I hardly got to catch the swimming events on TV during the Beijing 2008 Olympics. I would only find out about Phelps' successes through Twitter or Facebook.

Nowadays, though, whenever I turn on the TV, I always see a swimming event.
Thanks, Lord!
Michael Phelps and Ryan Lochte after their 4x200m freestyle relay.
This was Phelps' earth-shaking 19th medal.
Two days later, he bagged his 20th medal: a gold for 200m IM.
It's been really interesting to see Michael Phelps, the most bemedaled Olympian ever, battle it out with the "new kid in town" (so to speak), Ryan Lochte. Lochte's been making waves — no pun intended — not just in the Olympic scene. In fact, he has already beaten Phelps in several events.

Phelps, though, continues to push himself (even if he realizes that he's no longer the same Phelps of the 2008 Olympics) and strive for more.
On the women's end, the world has come to acknowledge a superhuman swimmer in our midst: China's
Ye Shiwen
.
To me, though, she's most likely a fish. A fish disguised as a human.
Seriously: how can anyone swim as fast as she does? Blows my mind.
She rocks those long nails (if I'm not mistaken, I've even seen her swim with lacquered nails), manages to swim so gracefully, and win a medal. Amazing.
What I'm sad about, though, is the fact that I haven't seen any of the women's gymnastics events (trivia: I also used to be a gymnast). I usually catch the men's, but I miss seeing the floor, beam, uneven parallel bars, and vault routines of the ladies.
I would've also loved to see
Nastia Liukin
and
Shawn Johnson
compete again (they were my favorites from the 2008 US women's team).
Shawn Johnson and Nastia Liukin in the 2008 Olympics.
But, hey. The 2012 US women's team didn't need their help — they won the gold.
Jordyn Wieber, Gabby Douglas, McKayla Maroney, Ali Raisman, and Kyla Ross.
Congratulations, ladies!
In a little less than a week, this Olympic Mania will be over. I'm not looking forward to saying goodbye.

It'll be another looooooooooong wait 'til Rio 2016.
But in the meantime, I'll be cheering for our Filipino athletes who are still in the running for Olympic glory:
Mark Javier (archery), Danny Caluag (cycling), Rene Herrera (5,000-meter run), Marestela Torres (long jump), Tomohiko Hoshina (judo),
and
Mark Anthony Barriga (boxing).
Our athletes seriously
need
all the support they can get (I'm talking to
you
, people who can afford to boost the training of and the facilities for our athletes).
Go, Team Philippines!
P.S. All photos c/o Google Images. No copyright infringement meant.